Looking for paleo recipes using fresh berries? Here are 12 paleo summer berry recipes to try.
My favorite thing to do with summer berries is eat them fresh out of the basket. But summer's abundance of fresh strawberries, blueberries, blackberries and raspberries inspires me to put them in just about everything.
So if you went berry picking, or have berries in your CSA box, here are 12 tasty paleo summer berry recipes.
Strawberries
2. Chicken Salad with Spinach and Strawberries
3. Paleo Strawberry Shortcake with Lime Coconut Cream
4. Red, White and Blue Berries and Cream
Blueberries
5. Paleo Lemon Blueberry Scones
7. Paleo Peach Blueberry Crisp
Blackberries & Raspberries
8. Paleo Watermelon Berry Smoothie
9. Paleo Banana Blackberry Muffins
10. Raspberry Blackberry Coconut Parfait
11. Easy Dark Chocolate Pots de Creme with Raspberries
12. Raspberry Chocolate Chip Muffins
Share this:
BONUS DOWNLOAD: Click here to get a
free printable paleo shopping list.
P.S.
Take a look at the
Paleo Grubs Book.
With 470+ easy-to-prepare Paleo recipes in 17 comprehensive categories, you'll never wonder what to make.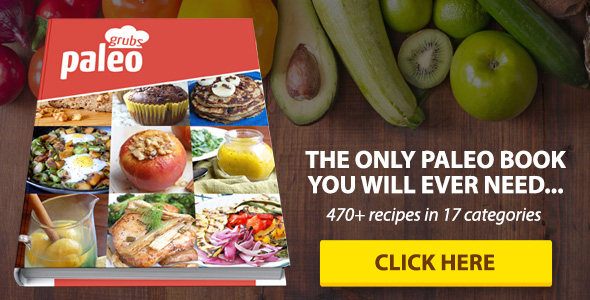 You May Also Like
Roasted Cauliflower Hummus
Paleo Breakfast Sausage
Paleo Snack Mix