This is my favorite guacamole recipe! I learned how to make it on a trip to Mexico years ago. I love the simplicity – with just four ingredients, the flavors of the avocado and lime really shine through. I've tried many others, but I always come back to this easy recipe.
I've taken this guacamole to many parties and it always disappears quickly. I like to serve with fresh vegetables — cucumber slices, carrot sticks, red, yellow and orange pepper wedges, or endive leaves.
The key to this recipe is making sure you have enough lime juice and salt to give it a nice bright flavor. Since avocados vary in size, always taste and adjust the seasonings before serving.
If you need to store the guacamole, here on some tips on preventing it from turning brown (although I recommend eating the same day).
I often serve guacamole as a topping instead of dip. This guacamole is good on everything – grilled meat, rotisserie chicken, or fish tacos in lettuce wraps – the possibilities are endless.
It also makes a great base for guacamole flavor variations. Try adding cilantro and jalapeno peppers, grilled pineapple, fresh tomato salsa, or roasted garlic and sun-dried tomatoes to this easy guacamole recipe.

Easy Guacamole Recipe
Ingredients
2 Haas avocados
2 tablespoons minced onion
2 tablespoons lime juice, or more to taste
¼ teaspoon sea salt, or more to taste
Instructions
Combine the onion, lime juice and salt in a medium bowl.
Peel and pit the avocados and add to the bowl.
Mash with potato masher until combined.
Taste and add more lime juice and salt if needed.
  Share this:
BONUS DOWNLOAD: Click here to get a
free printable paleo shopping list.
P.S.
Take a look at the
Paleo Grubs Book.
With 470+ easy-to-prepare Paleo recipes in 17 comprehensive categories, you'll never wonder what to make.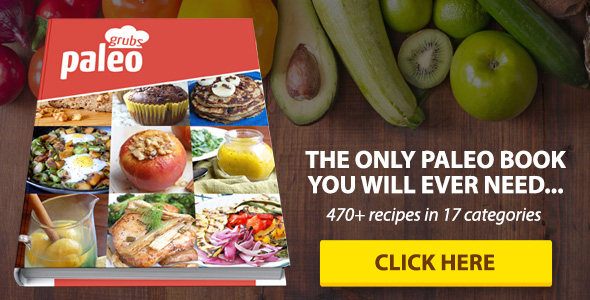 You May Also Like
Easy Paleo Brownie Recipe
3-Ingredient Green Smoothie
Paleo Snack Mix