My favorite way to cook bacon is in the oven. It's the easiest way to make bacon. You just put in the oven it and it basically cooks itself. There are a lot of variations on the oven cooking method — with a rack, in a preheated oven, or at different temperatures. I've tested many different ways, and this is the way I get the best results every time. Here's how to cook bacon in the oven.
Line a rimmed baking sheet with foil and space the bacon out on it. I do not use a rack. I find the bacon cooks better without it. Leaving a little room in between the slices, I can usually get 8 – 10 slices on the baking sheet. Place it in a cold oven and set the oven to 375 degrees. Bake it until it is brown around the edges. This usually takes 15 – 20 minutes, depending on the thickness of the bacon. I like thinner slices, I think they get crispier. Using tongs, immediately remove the bacon to a plate lined with paper towels to drain and crisp up. Once the baking sheet is cool enough to handle, pour the bacon grease into a jar and save it to use for cooking.
Always make sure you use good quality bacon with no additives. Ideally, the ingredients should be just pork and salt. You can look for pastured bacon from a local farm. Or US Wellness Meats makes a great sugar-free bacon that is Whole30 approved. You can also look for organic bacon in the grocery store. Just be sure to check the label and make sure you are okay with all the ingredients. I have yet to find a packaged organic bacon that doesn't have a small amount of sugar used for curing, but I will sometimes use it in a pinch.
How To Cook Bacon In The Oven
Ingredients
8-10 slices good quality bacon
Instructions
Line a rimmed baking sheet with foil and arrange the bacon slices on it leaving space in between.
Put in cold oven and set oven to 375 degrees.
Bake 15 - 20 minutes, until bacon is brown on edges or cooked to desired doneness.
Immediately remove bacon to towel lined plate to drain.
BONUS DOWNLOAD: Click here to get a
free printable paleo shopping list.
P.S.
Take a look at the
Paleo Grubs Book.
With 470+ easy-to-prepare Paleo recipes in 17 comprehensive categories, you'll never wonder what to make.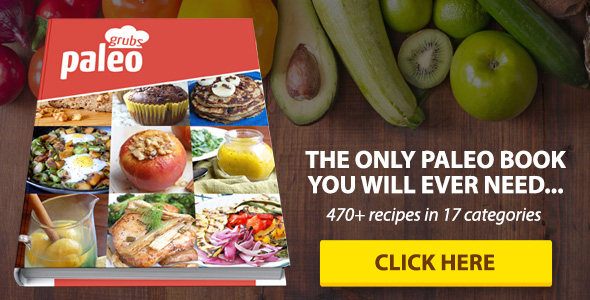 You May Also Like
Paleo Snack Mix
Lemon Poppy Paleo Muffins
Italian Dressing Recipe